BX 29 (liquid)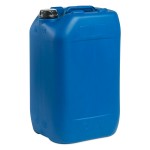 Code 240240 – NATO Standard Number 6850-15-157-8945
Decontaminant product for persons.
NATO MANUFACTURER CODE N° A5009 – CONTROL AQAP110
DESCRIPTION OF THE DECONTAMINANT FOR PERSONS BX 29
This decontaminant is a highly concentrated liquid, with a neutral pH value, for the complete decontamination of the body (skin).
It is completely free of caustic substances and noxious irritants.
CHEMICAL COMPOSITION:
–  Amphoteric 54%
–  Amide 6%
–  Laurilether Sodium Sulphate 40%
Period of storage: Storage conditions: Recommended Dilution: Biodegradable:
2 years
from -15°C to 50°C (from 5°F to 122°F) from 5 to 15%
more than 90%.
BX 29 can be used easily and without problems. The liquid does not tend to separate, is totally soluble in water and completely stable and homogenous.
The product has an essential practical advantage of being a single product for storage. BX 29 is automatically sucked into the showers through a Venturi tube. Decontaminant power on persons: total
Storage: no particular caution needed.
NON TOXIC NON AGGRESSIVE NON NOXIOUS